"Nothing will work unless you do. " - Maya Angelou
---
How to be Successful:
In order to be successful in Social Studies you will need to do the following:

---

​Materials:
The following materials need to be brought to class everyday!
Be prepared everyday with all class materials.
Keep an organized notebook! (I can help with this!)
Review your notes at night.
Complete all class assignments and homework.
Study for all test and quizzes.
Come to class everyday with an open mind!
Follow all school and class rules!

---

A positive attitude!
Loose-leaf paper.
5 dividers
A binder to place your class materials.
Pencils and pens – blue or black only!
Colored pencils.
Highlighters for notes and annotations!
| | | |
| --- | --- | --- |
| Classroom Procedures: ​ | --- | Grades |
Come to class on time!
Take care of any personal needs during class change (water, restroom, etc.)
By the bell, have all of your materials ready, be seated, and warm up.
All work should be turned into your class bin at the beginning of class.
Raise your hand and wait for permission before speaking.
Always get permission before leaving your seat.
Be respectful and courteous at all times, especially during class discussions.

---

Grading Scale

100 – 90

A

89 – 80

B

79 – 70

C

69 – 60 D

59 and Below F

Language Arts Grading Rubric

Tests and Major Assignments 50 %

Quizzes and Intermediate Assignments 35 %

Minor Assignments 15 %

Total 100 %

Late/Missing Work:

It should be your goal to get all of your work completed and turned in on time. Late automatically lose ten points.
| | | |
| --- | --- | --- |
| Social Studies Website | --- | ​What if I am absent? |
| | | |
| --- | --- | --- |
| On this site , you will find classroom documents, lesson materials, useful links, and announcements. | --- | If you are not in school on a day that an assignment is due you will not lose points for that day, but it is your responsibility to turn in your work the day that you return to school. If you are absent check the website to see what you have missed. Any materials from class will be located on the in your core folder with your name attached. Please come to me to confirm you have all the information you missed. |
​You will be expected to keep an organized notebook. (You may share this notebook with another class). Keeping an organized notebook will help you be successful in the classroom. We will be using a table of contents to help keep all of the class materials in order. The table of contents will be written on the board and there will be a sample notebook available to use as a reference.

​Your notebook will be divided into the following five sections:

Warm Ups
Quarter 1
Quarter 2
Quarter 3
Quarter 4

---

Parent Communication

​

Parent Communication

: Please refer to my classroom websites for weekly overviews of instruction.

Email:

If you have any questions or concerns, please feel free to email me at Atyndall@wcpss.net

8-1 Email Updates:

If you would like to receive periodic updates from the 8-1 team please fill out the google form. This form is located on my classroom website or you may use the following link.

https://goo.gl/forms/aKrZhBIZGa9lpYY73
Warm Up:
Everyday, we will complete a warm up as an introduction to the lesson. You will be provided with a warm up sheet that you are expected to fill in everyday. If you are absent, you are still expected to complete the warm up. (The previous day's warm ups are located in the sample notebook). Warm ups will be collected every four weeks. Below is an example of complete warm up:
I am looking forward to having you in my class! I will do everything that I can to make sure that we have a fun and successful school year, but it will take all of us working together to achieve that!

Mrs. Tyndall

Powered by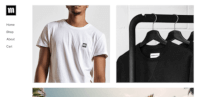 Create your own unique website with customizable templates.